After the initial crowd-funding campaign, we set April as a target date for the release of the book. April is almost over so it's time for us to give you some news.
First, we're very happy to announce that the liberation fund has been completed and thus the book will be released under free licenses (GPL2+ + CC-BY-SA 3.0) from the start.
The liberation campaign was slowly loosing momentum in the last months but we had the chance to have two significant donations from BackTrack Linux first (1000 EUR) and then from École Ouverte Francophone (1442 EUR) which completed the fund. Thank you to them and to all the individuals who contributed in the last few months (387 persons!).
If you haven't seen it yet on our Google+ page or on Raphaël's blog, have a look at the nice cover for the book: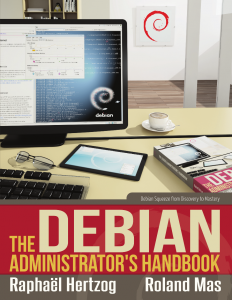 While the book cover has been ready for a few weeks, the book itself is not yet ready. We still have a last batch of reviews to process and we're not done yet with the LaTeX stylesheet used to render the PDF for the printed book (we're using dblatex for this).
If nothing unexpected happens, you can expect the book release in the next 2-3 weeks. This time we must make it, because I (Raphaël) have planned a one-week vacation after! 🙂