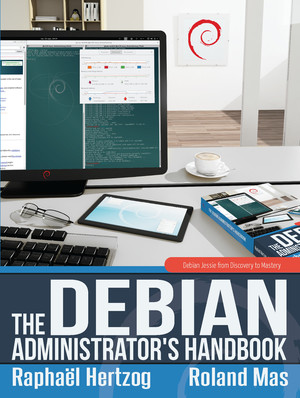 We're pleased to announce the availability of "The Debian Administrator's Handbook, Debian Jessie from Discovery to Mastery".
We went through all the chapters to update the content so that it matches your experience with Debian 8 "Jessie". We added new sections (covering systemd, AppArmor) and dealt with many requests of our most loyal readers who took the time to file a bug report with their suggestions and their fixes.
We hope that you will enjoy the result, browse it online or grab a copy (paperback/ebook). It should also be available as a Debian package (in Debian unstable but should be installable on any Debian system given that it has no dependencies).
As a special launch deal, you can get the paperback version with a 15% discount. Just click on this link and place your order before November 9th. Afterwards, the discount will be gone.
As usual we welcome reviews and comments!