I'm glad to announce that the Wheezy version of the Debian Administrator's Handbook now sports two full translations with the French and Spanish ones.
French: Cahier de l'Admin Debian Wheezy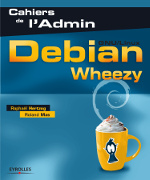 Not really a surprise since this is our mother tongue and since the last crowdfunding campaign made this work possible. Still, it's an important milestone for us because this is first time Eyrolles publishes this book under a free license from the start.
The book is thus available as a paperback in all (good) bookstores as well as an e-book that you can read online and download.
Spanish: El libro del administrador de Debian
The Spanish translation team lead by Matías Bellone worked very hard to get back to 100% of translated strings and you can now enjoy the result.
Let us thank the translators:
Matías Bellone
Adrià García-Alzórriz
Rene Saavedra
all the persons who contributed to the translation of the former version of the book
Crowdfunding campaign for the Arabic translation
Muhammad Saied is currently running a crowdfunding campaign to gather the $4500 required to let him and Mohamed Amine complete the translation.
If you speak and read Arabic (or more generally care about spreading Debian in the part of the world that uses this language), click here and go support this project!
Other translations
There are many other translations that would benefit from some help to get closer to completion. You can already browse and download the corresponding books.
Here's the progression of all the existing translations:
Arabic (ar-MA): 9%
Brazilian Portuguese (pt-BR): 36%
Chinese (zh-CN): 26%
Farsi (Persian) (fa-IR): 0%
French (fr-FR): 100%
Danish (da-DK): 0%
German (de-DE): 66%
Greek (el-GR): 1%
Hungarian (hr-HR): 3%
Indonesian (id-ID): 8%
Italian (it-IT): 64%
Japanese (ja-JP): 0%
Polish (pl-PL): 2%
Romanian (ro-RO): 1%
Russian (ru-RU): 29%
Spanish (es-ES): 100%
Turkish (tr-TR): 0%